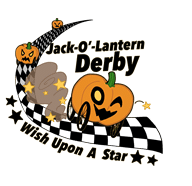 Wish Upon a Star Presents
The 2nd Annual 'Spooktacular' Jack-O-Lantern Derby
Saturday, October 9th, 2021 at the Croatian Club
Festivities start at 11am – Race at 2:00pm
What is the 'Spooktacular' Jack-O-Lantern Derby? Tons of fun as Pumpkin Racers are released down the Remin Kart-a-Bag race track for head-to-head competition to cross the finish line first!
Each Pumpkin Racer is built with a real pumpkin, 4 wheels (provided as part of the Race Kit),
and some clever ingenuity to provide a memorable shell design. The The Jack-O-Lantern Derby
is a hilarious event, showcasing the originality of the pumpkin racers. Join the fun and bring your best Pumpkin Racing Team.
There will be food and beverages available for purchase along with raffles and other surprises for family members of all ages
to participate.
Everyone is welcome to come cheer on these brave Jack-O-Lanterns for a great cause.
You can download the complete rules, regulations and paper registration here if you prefer not to register online.
If you would like to order t-shirts for the event, please visit our online store.